2021-2022 Scholarship Drive
The 2021-2022 Scholarship Drive kicks off January 13, 2021! Scholarships are sponsored by the generosity of various local organizations and community champions that showcase faith and believe our students are the future. 
Scholarship Deadline: March 31, 2021!
Student Success starts here...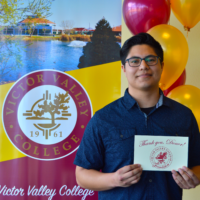 Studying Respiratory Care
at Victor Valley College
"With this scholarship, I can pay for school without having to worry about whether or not I can afford to pay for my car insurance or fill up my gas for the week… I can focus on my coursework and making my dream of becoming an RT real. Thank you so much to my donors!"
Conni Ernst Memorial Scholarship Recipient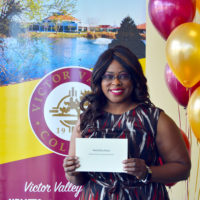 Studying Nursing
at Victor Valley College
"I'm so excited to continue to pursue my degree in Nursing. This scholarship awards me the confidence to put my education first. I won't let my family or community down. Thank you to all those who continually support."
Kathleen Britton Nursing Scholarship Recipient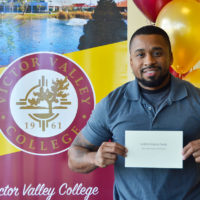 Studying Psychology
at Victor Valley College
"My dream is to become a clinical social worker. VVC is helping provide great mentors and instructors leading the way for me. Financially and emotionally…this scholarship takes a load off."
Wells Fargo Veteran Scholarship Recipient
We know…college can be tough enough with various course load, study sessions, and aiming to keep a healthy balance with it all. 
The scholarship process is created to be as stress-free as possible! Learn more on what scholarship are, how they can help, and how you can apply. 
The 2021-2022 Scholarship Drive kicks off January 13, 2021…save the date! 
HOW WILL I BE ABLE TO ACCESS MY SCHOLARSHIP?
A scholarship is a gift – not to be confused with any kind of financial aid or the BOGG Waiver (now known as the California Promise). You earn this scholarship by submitting a successful application and demonstrating you are working hard to achieve your goals.
HOW WILL I BE ABLE TO ACCESS MY SCHOLARSHIP?
While our goal is to disburse funding as soon as possible, money must be received in the Foundation office by the donor first. Some funding may come later in the semester. Be prepared to pay your own expenses and get reimbursed.
Scholarship balances are automatically distributed after the last add/drop date. Be sure your address is correct on file with Admission and Records since the balance will be mailed!

Can I use funds at the rams bookstore?
Of course! Bookstore vouchers can be requested after fees are paid by the Bursar. Once awarded, please reach out to the Foundation office as soon as possible to discuss how we can best help you obtain material from the Rams Bookstore. 
Where do the scholarships come from?
Local donors and organizations work to provide scholarships and various other opportunities to students in the Victor Valley region. Most of our donors are local and from this area – many are alumni! They work hard and volunteer their time, talents, and treasures to help fund scholarship funds. 
How can I thank my donors?
You can thank your donors by sending in a Thank You letter to the Foundation office in which we then forward on to those who support! Virtual Thank Yous are also an option utilizing ThankView communication from the Foundation office. 
Your success is a huge thank-you to your donors! They invest in you because they know you're capable of making your educational dreams come true. 
There are many more who will come behind you who will need the same financial help – make a difference in someone else's life who you have never met, the same way you may never meet the donor who cared enough to invest in your education.
I'm planning to transfer soon...can I still apply?
You should definitely apply! If the scholarship is confirmed to be transferrable:
You must provide transfer school id # and registration statement to the Foundation office in order for funds to be transferred to the school you are attending. You can email that to one of the contacts above.