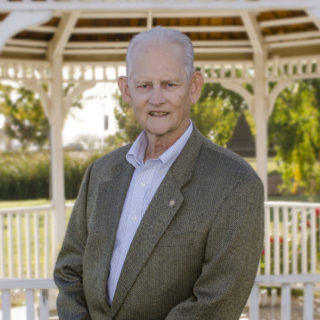 After serving in the United States Air Force, Norm Hurst went on to become a Deputy Sheriff for the San Bernardino County Sheriff's Department. During his 32-year career in law enforcement, Norm rose through the ranks to ultimately become Deputy Chief. As Norm received many awards and commendations, a highlight in his career includes his devotion to the establishment of the Mental Health Court Program in San Bernardino County that effectively adjudicated the cases of mentally ill offenders. Norm's long-term association with Victor Valley College began when he received his Associate of Science degree in the Spring of 1974. Upon receiving his Bachelor's, Norm was encouraged to begin teaching in VVC's Criminal Justice Department where he encouraged hundreds of men and women to serve their communities with pride and professionalism in the field of law enforcement. His service to the College continued in 2011 when he joined the Victor Valley College Foundation Board of Directors.
While we, as a community, feel indebted to Norm for the years of service and kindness, Norm constantly shared his gratitude for his wife, Paula, for the continuous years of support and love. Norm Hurst was a man of exemplary character as he poured various efforts into supporting student success by developing the resources to award scholarships and grants to College departments. It is an honor to have served alongside norm. His adoration for student success remains unmatched.

He believed in supporting those who needed some extra love, He believed in serving his community, and he believed in Victor Valley College and its students.