Willie D. Pringle 12th Man Scholarship
Willie Davis Pringle
November 16, 1952 - January 6, 2015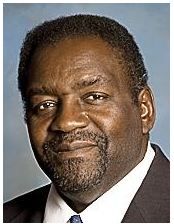 Willie Davis "Big Will" Pringle was the second born child to the late Moses and Millie Mae Pringle. He was born on November 16, 1952, in Akron, Ohio, and moved to Victorville, California on October 31, 1954. He lived his entire life in the Victor Valley. He attended Eva Dell Elementary School, Victor Valley Junior High School, and Victor Valley High School, where he participated in football, wrestling, track, and baseball. He continued his education at Northern Arizona University in Flagstaff, Arizona, on a football scholarship. After college, he returned to the Victor Valley.
For many years, Willie would help serve meals to the homeless with the Salvation Army. He won an award in 2009 for his distinguished community service. Willie leaves behind his wife of 15 years, Mary Pringle; his son, Tim Pringle; his stepdaughter, Patty Mix; his step-son, Brian Kaiser. He also leaves behind his sister, Annie Mae Holmes-Pringle, as well as 12 grandchildren, nieces, nephews, cousins, and numerous friends and colleagues. In his free time, he enjoyed gardening and raising chickens. Willie fought prostate cancer for two and a half years. He was a fighter until the end. Willie dedicated his life to Christ in 1996. We are certain that he is present with the Lord today. In lieu of flowers, the family requests that donations be made to the Victor Valley College Foundation for athletic scholarships.
In lieu of flowers, Mary Pringle has asked that donations be made to the Willie Pringle Scholarship Fund through the Victor Valley College Foundation. If you choose to send your gift in the mail, please indicate if you would like us to notify the family about your donation. If you choose to make your gift online, click here.